The Ultimate Luggage Storage Guide in Gare du Nord
Welcome to the largest railway station in Europe and the third largest in the world, Gare du Nord. It is a historical and cultural monument in the center of Paris, which is significant for its beautiful sculptures depicting the cities to which direct railways led from the Gare du Nord – Vienna, Berlin, Amsterdam, London, Brussels and Warsaw.
Around half a million people check in at the station every day, so it is obvious that the station is very busy and it is not easy to keep track of luggage. To ensure your comfort, we would like to recommend a company named LuggageHero that will take care of your luggage. While you wait for the train you can have a classic buttery croissant with coffee, take a walk around the city or end your trip by shopping famous Parisian brands.
Leave Your Luggage Behind and Explore Paris!
All of us want to make the most of our Paris trip. Seeing everything, going everywhere, and experiencing Paris can be difficult when you have heavy luggage. Maybe you have hours until your check-in time, or your flight leaves late at night, but you do not know where to store your luggage until then. Luggage storage is the perfect solution for you, and it will give you the opportunity to keep just your essentials while you take advantage of every minute you've got in the city! In the chart below, we collected and compared some of the bigger luggage storage companies you can find in Paris.
| | | | |
| --- | --- | --- | --- |
| | LuggageHero | City Locker | NannyBag |
| Prices | from €8.9/24h | €15/24h | €12/24h |
| Insurance | Up to €2500 | Limited | Up to €1000 |
| Number of stores | 33 | 5 | 55 |
| Size limitations | No limitations | Max 48x61x85 | Max 30kg/1.5m |
| Ratings | 4.7 | 4.6 | 4.8 |
| Flexible arrival | Yes | No | No |
| Reviews | +116.000 | 189 | +27.000 |
Headed to Paris?
Bonjour! Paris, known as the City of Lights, is one of the most beloved and romantic cities in the world. With its breathtaking architecture, delicious cuisine, rich history, and vibrant culture, it is no wonder that Paris is a top for tourists from all over the globe. Located in the heart of France, Paris is home to some of the world's most famous. Landmarks, such as the Eiffel Tower, the Louvre Museum, and Notre Dame Cathedral. It is also known for its chic fashion scene, charming sidewalk cafes, and picturesque streets. Whether strolling along the Seine River, admiring the stunning views from the top of the Arc de Triomphe, or indulging in fresh croissants at a local bakery, there is always something magical to discover in Paris. So, if you are looking for a city full of beauty, romance, and adventure, Paris is the perfect place to explore.
Some surprising and entertaining facts about Gare du Nord:
Gare du Nord is one of the busiest train stations in Europe, with over 200 million passengers passing through each year.
The station was originally built in 1846 for the Chemin de Fer du Nord railway company, which operated trains between Paris and the northern regions of France, as well as Belgium, the Netherlands, and Germany.
Gare du Nord is the terminus for the Eurostar, a high-speed train that connects London, Brussels, and Paris.
Gare du Nord has a famous statue of a lion, which was designed by the French sculptor Auguste Cain and installed in 1865. The lion is a symbol of the Chemin de Fer du Nord railway company.
In recent years, Gare du Nord has become a popular destination for shopping, with a large selection of stores and restaurants located inside the station.
LuggageHero – easy, fast, and cost-effective certified luggage storage
How much would it cost to store my luggage at Gare du Nord?
LuggageHero is cost-effective and adaptable. The first thing we have to point out is that, unlike most other luggage services, you don't automatically pay a daily rate for leaving your luggage, but only for the hours during which you actually use the service. An hour, three hours, or even the whole day? It depends only on you and you don't pay anything extra.
Large selection of LuggageHero-certified storage shops
Another advantage of the LuggageHero service is that there is no need to travel far to store your luggage. LuggageHero has several locations near the train station, which you can choose according to your plans or relevance. All storage shops are certified by LuggageHero and you can find them using the map directly on the LuggageHero website or in the official LuggageHero App.
Baggage size and shape
You don't have to worry about your luggage being refused due to its size, shape, or weight. In this case, it doesn't matter what you store in LuggageHero – it can be a musical instrument, ski equipment, a shopping bag, and others, the luggage is counted as one piece.
Download the LuggageHero App to see all the most convenient locations and prices in Paris!
LuggageHero App makes it really easy. If you want to store your luggage in the most efficient way, use the map to find the nearest shop, enter your luggage details, make a reservation, and pay. After arriving at a certain address of the shop, scan the QR code to check in your luggage and it's done. It's a simple process that will take you a minimum of time, so you can enjoy your stay in Paris carefree.
Is there any difference between left luggage and luggage storage?
Left luggage and luggage storage are basically the same thing. Left luggage is mostly being used in the UK. Luggage storage is the most common name used internationally when referring to storing luggage. They are both defined by people's need to store luggage that can be collected at a later time.
Things to do near Gare du Nord
Your luggage is checked and now it's time to have fun. Here are some tips for places near Gare du Nord worth visiting.
Marché Saint-Quentin
Visit the famous Marché Saint-Quentin market and discover the great flavors of typical French fresh food. Here you will find a large selection of vegetables and fruits, cheese, wine, pâté or fish.
Maison Fond
A 2015 sculpture of a Parisian building melting into the ground is meant to represent the threats of global warming and the overall impact on the environment.
Musee du Chocolat
Are you a chocolate lover and would you like to learn about the origin of cocoa beans, chocolate production, and its history? The Museé du Chocolat is a must-visit place for you! Chocolate is for example displayed in the form of famous French landmarks or French fashion clothes.
Events near Gare du Nord in spring 2023
Cinéma du Réel
The Cinéma du Réel is an annual documentary film festival first held in 1978 and held annually from March 24th to April 2nd. The festival's goal is to promote and showcase the best of international documentary films, focusing on new talents, emerging and established directors, and retrospective and thematic sections.
It attracts around 20,000 film enthusiasts and features hundreds of documentaries screened in various venues in Paris, such as the Centre Pompidou, the Forum des Images, and the Cinéma des Cinéastes, among others. The festival also includes workshops, seminars, and retrospectives that highlight the best documentary films throughout history and provide a platform for the exploration of new forms and techniques.
Schneider Electric Marathon de Paris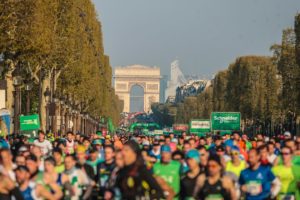 The Schneider Electric Marathon de Paris is a marathon race taking place on April 2nd, 2023, starting from Avenue des Champs-Élysées, close to both Gare du Nord and Gare de L'est. It offers a unique opportunity to participate in one of the most prestigious marathons in the world, covering a distance of 42.195 km. The marathon is known for its large field of participants and the impressive performances of the runners, making it one of the biggest marathons in the world.
The race route takes runners through some of the most iconic landmarks and neighborhoods of Paris, such as the Arc de Triomphe, the Eiffel Tower, and the Louvre, providing an unparalleled experience of the city.
In case you are in need of additional luggage storage options, here are more recommendations for you to consider:
Customer reviews of LuggageHero